Thought Leadership
Download BPI Network Study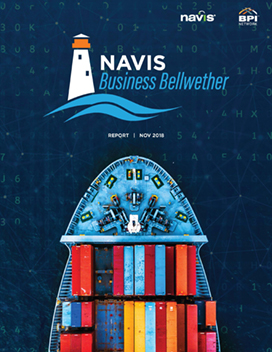 The Navis Business Bellwether
The Navis Business Bellwether report is the inaugural report for an ongoing benchmark survey of the shipping industry to monitor sentiment and priorities across a variety of economic, business and operational issues. The inaugural survey was conducted in September and October of 2018 and includes responses from more than 175 industry professionals and executives. The report also includes commentary from select industry leaders.
The global maritime industry is cautiously optimistic about the global business environment for world trade, but also concerned about the potential impact of trade tensions, cyber security, fuel costs and other headwinds to industry recovery.
Some 82 percent of survey participants anticipate either improved profitability over the next 12 months or continued stabilization and reduced losses. Growth is expected to come from all regions of the world, with particularly robust activity in Asia and the Middle East/Africa.
Key topics covered in the report include:
Industry concerns
Technology & process improvement
Key growth areas
Technology investments