Thought Leadership
Download BPI Network Study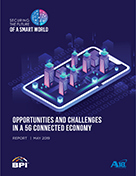 Securing the Future of a Smart World
Opportunities and Challenges in a 5G Connected Economy
The rollout of the next generation of wireless networks has begun in earnest, introducing what many believe will be one of the most seminal technology transformations of a still young digital age. 5G networks, with their dramatic advances in transmission speed, latency, capacity, energy efficiency and connection densities, promise to bring about a smarter and more connected world that will drive massive changes across the global economy.
The introduction of the first commercial 5G networks, which began in 2018, is picking up significant steam. Yet, full-scale 5G networking and the realization of its potential is still a long ways away. Operators and their technology partners still must make massive capital investments and drive major innovations in the next several years.
This report, which highlights the challenges and perspectives from 150 leading IT and telco executives, dives into the plethora of strategic business and technology decisions that service providers have to make that have major ramifications for the future. It also highlights the most significant use cases that will act as major disruptive forces across industries in the coming years.