Thought Leadership
Download BPI Network Study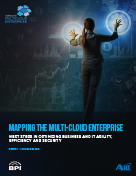 Mapping the Multi-Cloud Enterprise
Next Steps in Optimizing Business and IT Agility, Efficiency and Security

Multi-cloud application infrastructures are now the de facto standard for enterprises globally. Two thirds of enterprise are now using two or more public clouds, and more than a third have already moved 50 percent or more of their applications to the cloud. Most organizations say their transition to multi-cloud computing is just beginning.
Yet, few companies (just 11 percent of survey respondents) say they have been highly successful with this transformation. They cite a wide variety of challenges that must be surmounted for IT to successfully operationalize these new environments. First and foremost, they are concerned about their ability to secure these environments across clouds, networks, applications and data. They want more centralized analytics and visibility, improved automation, and greater scale and performance from their security stacks in a new multi-cloud world. They also worry about a lack of talent and expertise and the overall complexity of managing across various clouds. Many are reassessing their current vendor relationships in light of these requirements.
This report highlights the challenges and priorities of 127 IT and business executives from around the world. It explores a wide range of strategic business and technology issues in operationalizing multi-cloud to optimize agility, efficiency, security and control. It should serve as a benchmark to ensure the benefits of multi-cloud can be met with the right investments for success.