Thought Leadership
Download BPI Network Study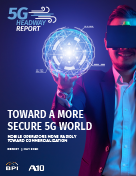 Toward a More Secure 5G World
Mobile Operators Move Rapidly Toward Commercialization
Next-generation 5G networks are widely seen as one of the most fundamental technology developments of our current century. Much has been written about the potential of these ultra-high-speed, low-latency networks to drive a new era of digital innovation, breakthrough applications, and revenue growth for mobile operators and the economy as a whole.
A new survey study by the BPI Network, developed in partnership with A10 Networks, shows that mobile operators believe their industry is making rapid progress toward 5G commercialization, including first-generation 5G network buildouts in major markets and steady advances toward virtualization of network functions, which will be critical to the full realization of 5G benefits and use cases and the eventual launch of standalone 5G.
The survey, which follows a study conducted approximately one year earlier, shows that the number of operators who say they are making rapid progress toward 5G has climbed precipitously over the past 12 months.
Cybersecurity is seen as a top concern and preeminent requirement for 5G, with many operators already altering their investments in security technology and most others considering changes in security vendor solutions as a result of 5G needs and requirements.