Thought Leadership
Download BPI Network Study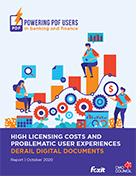 Powering PDF Users in Banking and Finance
High Licensing Costs and Problematic User Experiences Derail Digital Documents
The sudden shift to an all-digital consumer lifestyle means banking and finance companies are no longer able to share paper documents in person when conducting transactions. Over 80% of banking and finance executives are seeing a definite rise in the use of and reliance on PDFs, with more than 90% saying the number of PDF power-user employees has grown in the last 12 months.
This has exposed PDF problems, such as high software licensing costs, duplicate PDF software, and a problematic user experience. Banking and finance executives need to fix these and other problems quickly, as the ranks of PDF power users grow and advanced PDF features become mission critical.
This report, produced in partnership with Foxit, is based on a BPI Network survey of 150 banking and finance executives. It details the challenging PDF environment, provides a list of must-have advanced features, highlights major problem areas, and delivers recommendations for creating and managing a robust PDF environment.