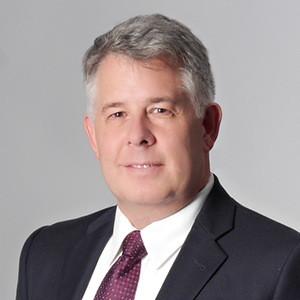 A Recent Study Shows Intellectual Property Supports 30 Percent of Jobs in the US Economy
By Christopher Eusebi
Patents, trademarks, and copyrights are the primary mechanism for establishing ownership rights to the creations, inventions, and brands that generate tangible economic benefits to their owner. Intellectual property protection helps commerce in the US economy by providing incentives to invent and create by protecting innovators from unauthorized copying. IP also supports entrepreneurial liquidity through mergers, acquisitions, and IPOs and enables a more efficient market for trading in technology and know-how.
A recent report from the Department of Commerce shows that the value added by IP-intensive industries within the United States increased substantially between 2010 and 2014. These industries accounted for a $6.6 trillion added economic value in 2014. While IP is used in every segment of the economy, there are 81 industries that use patent, copyright, or trademark protections extensively that represent a source of about 30 percent of all US jobs.
In economic times where every job is important, innovation and intellectual property protections represent some of the most significant protections for American jobs and internal rate of return for corporate business units. While many attribute IP protection to those in the population having the most education, the report states that the educational gap between workers in IP-intensive and other industries observed in 2010 virtually disappeared by 2015, showing that these IP-intensive industries are economically important for worker of all educational levels in the US.
The report shows, for IP-intensive industries, private wage and salary workers earn significantly more than those in non-IP-intensive industries. Workers in IP-intensive private sector industries earned an average weekly wage 46 percent higher than the average weekly wages in non-IP-intensive industries. Important for Corporate America, is trademark protection that represents a large percentage of all licensing revenue. Of the 81 IP-intensive industries, 66 are trademark-intensive industries. These industries continue to account for a large majority of IP-intensive industries employment. For sole employment, which represents a large percentage of the US work force, copyrights effect over 15 percent of the workforce. The report shows that over the past five years, IP has supported close to 30 million jobs, representing almost a one percent increase in the number of jobs since 2010.
Figure 3 of the report relates much of the story, showing trends in employment growth across IP and non-IP-intensive industries over the past twenty-five years. Following the Financial Crisis, patent-intensive industries are showing flat job growth being restricted to manufacturing, while industries supported by copyrights and trademarks are seeing growth. Since 2010, employment in non-IP-intensive industries outpaced that of IP-intensive industries by 2 percentage points. With race to the bottom wages for the hourly rates of manufacturing jobs, IP represents one of the only defenses to overseas competitors. Without IP protection, many of our clients, who employ thousands of American workers, would not be able to compete against overseas manufacturers who copy innovation.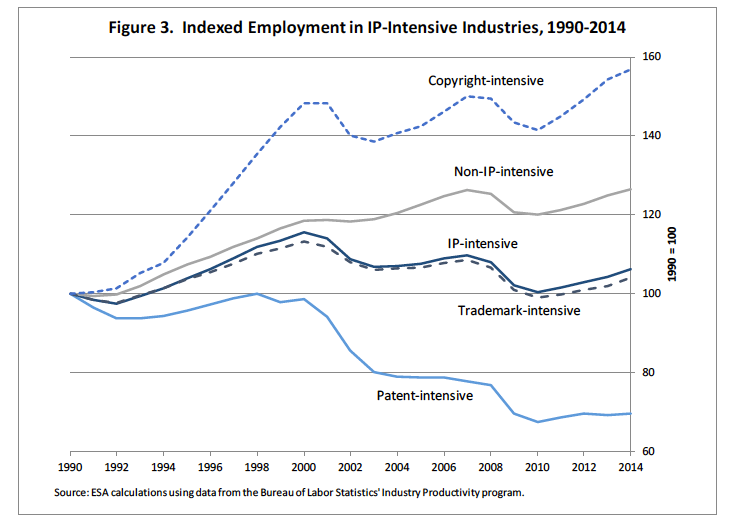 IP activity will often be driven by economic factors, such as the reduction in company budgets during times of recession. To improve efficiency, organizations are becoming more sophisticated in their understanding of the effectiveness and benefits of IP use. This allows owners of intellectual property to properly gauge the risks and benefits for the creation of new goods and services. Within the past year, we are seeing an increase in the number of patent applications from corporations and innovators in areas related to probiotics, clean energy, virtual reality, and autonomous vehicles. Whether it is a startup or a traditional research division for a Fortune 50 Corporation, organizations are placing bets by filing patent applications and filing trademarks to protect their investment in research and development and branding in hopes the protections will bring a reasonable rate of return. For a large portion of American industry, IP represents one of the only defenses to overseas competitors.

Chris Eusebi, a Principal at Harness Dickey & Pierce, is a registered patent attorney and specializes in counseling clients in the enforcement of various intellectual property rights. He is an advisor to the Department of Defense and has presented to the National Academy of Science in areas related to the predictive evolution of science and technology and recently developed techniques related to the detection of disruptive technologies.