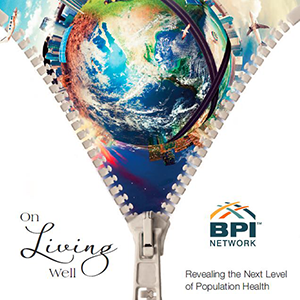 On Living Well: Evolving Population Health to the Next Level

By Les C. Meyer

Evaluating what's important
People work for more than money. They work for a sense of accomplishment and pride in their contributions to a common goal. Some even define themselves by what they do. But money matters. Tremendously. It fuels lifestyle — or lack thereof. It's also an underlying stressor that affects everything from workplace performance to home-life stability and personal health. That's where employers enter the scene in developing benefits that address employees' needs and stressors — physical, financial, career, social, safety and community — to optimize workplace performance.

What's wrong with the industry
The culture of wellness movement has, for the most part, failed to slow the pace of cost increases. Between the complexity of our medical delivery system, compounded by misaligned incentives and non-integrated medical and behavioral health payment methods, the sluggish pace of real-time information exchange at the point of care needs work. It doesn't help that broad provider network access is still preferred over centers of excellence and mind-body connections are ignored when advancing employee achievement programs.

Evolving the model
There's no disputing the value of population health programs. But how can they be measured? Next-gen leaders are keeping a mindful eye on Value on Investment (VOI) vs. Return on Investment (ROI) regarding the full value of workforce health — the economic value of a healthier working population.

"There's a growing body of evidence suggesting that when organizations invest in population health/culture of wellness programs, they see better business returns and greater profitability, compared to peer companies that have not made such investments or that provide ad hoc programs," states Ronald S. Leopold, MD, MBA, MPH, Chief Medical Officer, Lockton Companies. So, why aren't more organizations realizing that the health of the workforce is vital to the health of the American economy — especially when the evidence is so compelling? It requires a mind-set shift.

Game Changers in Action
"Large employers are taking more control over health care costs and quality by pressuring changes to how care is actually delivered based on the results from the 2017 Health Plan Design Survey sponsored by the National Business Group on Health," states Jane Sarasohn-Kahn, Health Economist/Advisor, Huffington Post. "Health care cost increases will average 5% in 2017 based on plan design changes. The major cost drivers, will be specialty pharmacy, high-cost patient claims, specific conditions such as musculoskeletal/back pain, medical inflation and inpatient care."

Recently, 20 large U.S. companies co-created a game-changing C-Suite leadership group designated as the Health Transformation Alliance (HTA). Its goal is to break with existing marketplace practices that are costly, wasteful and inefficient — all of which have resulted in employees paying higher premiums, copayments and deductibles.

"The current health care system is unsustainable and it costs too much," says Glenn Steele, M.D., Ph.D, Vice Chairman of the HTA. "Our goal is to improve the way corporations provide health care benefits to create better health care outcomes for their employees. By coming together to share expertise, the companies seek to make the current multilayered supply chain more efficient."

The Game Changer Strategy at Work
Population health management has been around for decades, but only recently has gained the
unyielding attention from mainstream healthcare enterprises and provider organizations. These early adopters are taking aim at the value of population health culture of wellness improvement innovations and their speed to value/speed to return.

"Everyone in health care is talking about population health. These two simple words - Population Health - describe a systematic approach to promote wellness and prevention, manage chronic diseases, and generally improve the health and wellbeing of our citizens," states David B. Nash, MD, MBA, FACP, Dean, Jefferson College of Population Health, Thomas Jefferson University. "Population health is changing the landscape of health and healthcare delivery."

Ahead of the Pack
IBM Watson Health and Prevea Health are pulling ahead of the pack in the population health space by integrating high-value personalized care support into their vision and business models to help people live their best lives. What's unique about these two game changers is that they jointly walk and talk using their own products and services for their own employees.

Prevea Health continues its physician-led population health innovations across its more than 21 locations designed to extend the reach of the physician and care team beyond the office or hospital. IBM Watson Health's capabilities help Prevea Health track-manage larger groups of patients while giving them effective tools for self-management, including risk assessments, which guide the patient through self-discovery to realize real-time health span achievement.

Health is a means to what's important in life — caring for family, enjoying friends and hobbies, succeeding at a job, living long enough to see grandchildren grow, or concentrating in a classroom. How, then, do we understand and value the health of a community based not just on exercise rates or prevalence of diabetes, but on its ability to help people attain what matters to them?" The answer lies in evolving population health into the game-changing personalized care support approach to support the health and lives of organizations' most value asset. Their people.

To read the full article, please visit here.



About the Author
Les C. Meyer is a principal of HPI Advisors, LLC who chairs the Informed Opinion Leadership Action Group and Leadership Board Member, Business Performance Innovation (BPI) Network, Advisory Board Member, Chief Marketing Officer (CMO) Council, Senior Fellow Emeritus, Jefferson School of Population Health and is also a member of National Academy of Sciences, Roundtable on Population Health Improvement, Health Enhancement Research Organization (HERO) Employer-Community Collaboration Committee.

Les is a serial entrepreneur, global executive leader and MBA with extensive experience in mindful innovation and self-actualization. His work focuses on transforming health and performance improvement through innovation leadership. He has worked with many organizations to help them achieve an optimal healthy workplace and workforce and achieve functional wellbeing outcomes via science-based mindfulness, resilience, vitality and sustainability next practices.