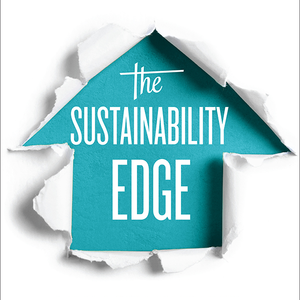 Embedding Sustainability into Your Company's DNA
By Suhas Apte & Jagdish Sheth
Today's entrepreneurs and CEOs are facing challenges of unprecedented magnitude and number, regardless of whether they run a start-up or an ongoing business. These leaders understand that the end-goal is to ensure that, over the long haul, the business itself is sustainable. Sustainability must be viewed and managed in a holistic way, addressing all three pillars - environmental, social, and economic. Some leaders know what they want and what they need to do to improve their sustainability credentials, while there are many others just beginning to consider how best to address these daunting challenges. Either case is perfectly fine, if the leaders recognize that sustainability is a journey and that every company has ample opportunity to progress from where they currently are.
Leaders and sustainability professionals need to actively embed sustainability into a company's DNA. This means all sustainability actions, policies, and behaviors must pass muster from a good business perspective. Best-in-class companies work with multiple stakeholders to embrace a triple-bottom-line mindset – taking social, environmental, and financial concerns into account – to ultimately achieve long-term prosperity. Innovative sustainability initiatives deliver either an increase in sales, improvement in profits via managing or reducing costs, reduction in business risks, or enhancement of the company's brand equity.
There are nine key sustainability stakeholder groups, which are organized into three classifications based on the nature of their impact on businesses in the Sustainability Stakeholders Framework below.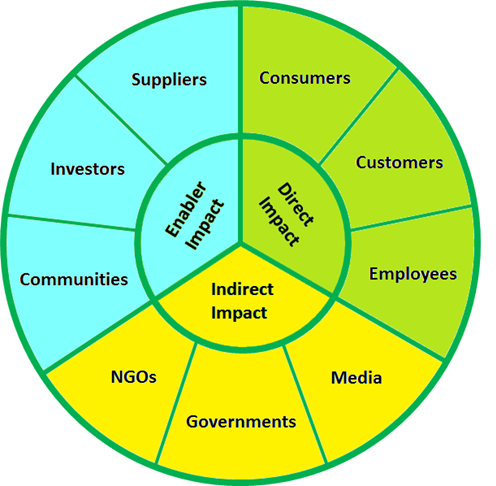 Transformative Sustainability Drivers
The business leaders who embrace sustainability in a holistic, transformative and balanced way by engaging and energizing the nine stakeholders will gain sustainable competitive advantage and deliver triple-bottom-line benefits. The more innovative the businesses are, the more sustainable competitive advantage they will enjoy. We are not suggesting that such a transformation will be easy, but with focused and engaged efforts it can be accomplished.
Some examples of how business leaders have approached each of these stakeholder groups in a targeted manner are as follows:
Motivating Consumers – This stakeholder strategy has the power to harness the loyalty of millions or GenX and millennials - natural sustainability champions. Today's GenX and millennials think sustainably - what businesses need to do is to engage them. Businesses need to find and effectively communicate the "BIG purpose" for their brands, and then they must design products and services that make consumption meaningful and their impacts on the earth and society transparent. Unilever's Dove Brands' Real Beauty campaign to improve women's self-image, Patagonia's 'Do not buy this jacket' campaign to promote a circular economy, and Clorox's Greenworks line of earth friendly cleaning products are great examples of how to engage and energize consumers by defining and communicating a brand's "BIG purpose."
Collaborating with Customers – Businesses can derive a competitive advantage by engaging and involving customers, distributors, and key accounts in sustainability initiatives and programs. Businesses are promoting responsible sourcing certifications such as FSC (forest Stewardship Council), MSC (Marine Stewardship Council), and Energy Star. Food manufacturing and consumer goods companies (FMCGs) have effectively collaborated with customers to drive sales and distribution of concentrated detergents, bleach, and other products to realize shared value across the supply chain while reducing environmental footprint.
Inspiring Employees –The power of multiplying a company's resolve and mission by harnessing its often thousands of employees as "sustainability ambassadors" is often overlooked. Smart CEOs and managers know that enlightened, educated, and engaged employees can effectively transform their businesses into successful and externally-recognized sustainability leaders. For example, Unilever creatively promoted a Sustainable Living Program so its employees would internalize it, Walmart unleashed a simple My Sustainability Plan program to encourage its many employees to live healthier safer lives, and Cliff Bar developed an incentive benefit package which rewards employees' sustainable behavior.
Nurturing Suppliers – Extending and accelerating a business's sustainability agenda by leveraging its many suppliers, on both the value and innovation fronts can be demonstrated by industry leaders Nike and IKEA. Nike developed the FLA (Fair Labor Association) for like-minded FMCG's to monitor labor wages, safety and workplace standards and to address social concerns down the supply chain. IKEA developed an IWAY program to engage and partner with its 1000 plus direct suppliers, to not only meet their stated standards but to also reduce costs and innovate products.
Investing in Communities – Businesses realize that developing symbiotic, sustainability-centered relationships with communities can enhance that community's quality of life, improve and preserve the environment, ensure healthy markets and margins, and develop the prospective pool of talented and educated employees. Such businesses include: PetSmart, which established PetSmart charities, a non-profit animal-welfare organization that facilitates over 1000 pet adoptions per day, Kimberly-Clark, which developed diaper banks to provide free diaper access to moms in need, and Tata, a $100+ billion conglomerate, that lives by their founder's purpose, directing all profits to a trust, whose mission is to improve the quality of life in communities it serves.
Attracting Investors – Investors have demonstrated that they are willing to reward businesses that can clearly show how their sustainability programs and initiatives improve shareholder's returns, reduce sustainability-associated risks, and make this a better planet all at the same time. Dow Chemical communicated how it saved four-fold in water and energy savings while investing less than $2 billion to improve resource efficiency thus creating value for the company. In addition, responsible and progressive companies are increasingly participating in the third-party ratings like DJSI and CDP to demonstrate to investors their commitment to sustainable business practices.
Leveraging Media – Creatively deploying all forms of media to promote a company's sustainability and growth agenda can yield a lasting business advantage. GE's signature program, Ecomagination, challenges and rewards great minds outside of GE walls to uncover innovative clean energy ideas. Starbucks' crowd-sourcing innovative program, the BetaCup Challenge addresses the environmental burden and resource consumption challenges that arise from the 58 billion disposable paper cups they sell annually.
Engaging Governments – By developing innovative public-private partnerships, companies simultaneously develop a business advantage while addressing pressing societal and environmental issues. For example, many FMCGs joined the UN's Global Compact to promote fair global labor practices, Tesla & Nissan (electronic vehicle manufacturers) benefit from clean energy tax incentives at both state and federal levels, and Unilever has been successful in promoting both their core business and hygiene challenges in emerging markets via handwashing education programs thereby supporting UN's Sustainable Development goals on sanitation (SDG6) and better health (SDG3).
Partnering with NGOs – A competitive business advantage can be realized through collaborations with strategic NGO partners. By integrating the insights, knowledge and passions of subject matter experts on staff at NGOs into internal company innovation processes, businesses can develop more sustainable existing and new-to-the-world product and service offerings. Examples of such partnerships include Kimberly-Clark's strategic partnerships with WWF, Greenpeace, and other environmental NGOs, which led them to develop standards for break-out alternate fiber sources like bamboo and agricultural waste, while Clorox's collaboration with Greenpeace led to the development of a sustainable electrolyte process to manufacture bleach.
The companies that effectively engage and energize all their key stakeholders develop a culture where sustainability is ingrained in how it does business, which in turn becomes a driving force behind its business success. By embracing sustainability as fundamental to their joint mission, companies realize a productive and long-lasting sustainability platform, and thus enjoy a superior and unique competitive advantage that is extremely difficult to replicate.

_________________________________________________________________________________________________
About the Authors
Suhas Apte, co-author of THE SUSTAINABILITY EDGE, is President of Apte Consultants and a partner in the Blue Earth Network, helping businesses discover breakthrough opportunities. Apte, who served as Global Sustainability Officer and President of European Family Care business at Kimberly-Clark, has extensive CPG industry experience and sustainability credentials based on a broad career working in Asia-Pacific, developing markets, Europe, and the United States. He has a degree in mechanical engineering as well as an MBA from the University of Pennsylvania's Wharton School of Business.
Jagdish N. Sheth, co-author of THE SUSTAINABILITY EDGE, is the Charles H. Kellstadt Professor of Marketing in the Goizueta Business School at Emory University. He has served on the faculties of Columbia University, MIT, University of Illinois, and University of Southern California. An expert on consumer demographics, the impact of technology on society, and the globalization of competition, he has been advisor to numerous corporations all over the world. He has published over 300 research papers and more than 30 books, and has a Ph.D. in Behavioral Sciences and an MBA from the University of Pittsburgh as well as a Bachelor's of Commerce degree from the University of Madras.

To purchase this book, please visit our Amazon Bookstore.
For more information, and the authors' easy to use, on-line Stakeholder Sustainability Audit tool, please visit www.thesustainabilityedge.com.