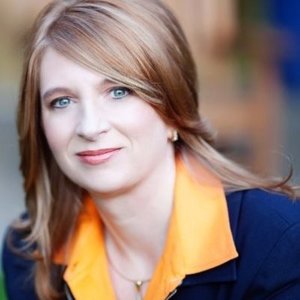 Collaborative Contracts and Competitive Bidding: Not Mutually Exclusive!
By Kate Vitasek
Can collaboration and competition co-exist to create the best contract bidding relationships?
The short answer is yes. In 2012, University of Tennessee researchers began studying how organizations use competitive bidding methods. Their findings? Organizations have traditionally thought of procurement as a "make vs. buy" decision. This was especially true as organizations began to explore outsourcing. Many incorrectly assume that if they "buy," they should use competitive "market" forces to ensure they are getting the best possible deal. This is evident in organizations where procurement professionals are measured and earn their bonuses for achieving year over year cost savings.
As organizations seek to get the best price within the market, the default approach is to use a transaction-based model where the buying organization can "test the market" to by easily comparing prices across transactions–such as price per hour, per widget, per mile, per kilogram, etc. This approach works well for simple commodity-type transactions with abundant supply options and low complexity where the "market" self-corrects with competition.
But the transactional approach is not very efficient in larger, complex and/or strategic situations. Too many procurement organizations use conventional "buy-sell" transaction-based competitive bidding approaches for buying complex and strategic outsourcing deals. That's why procurement professionals should consider sourcing solutions along a continuum of possible options, along a sourcing continuum (Figure 1) where the parties align and "fit" together in the best way for their situation:

The UT research has led to two white papers designed to help organizations challenge conventional approaches to competitive bidding. The first, "Unpacking Competitive Bidding Methods: The Essential ABCs of the Various RFX Methods," is a practitioner-oriented white paper that defines the why, what, and when of the various competitive bidding methods. The paper notes that many organizations are using the wrong competitive bidding tools for the wrong job – which can result in selecting the wrong supplier or developing a contract that is misaligned with the organization's objectives. The paper was published in collaboration with the Sourcing Industry Group and the International Association for Contract and Commercial Management.
The paper profiles each of the various RFx methods as summed up in the Figure 2 below: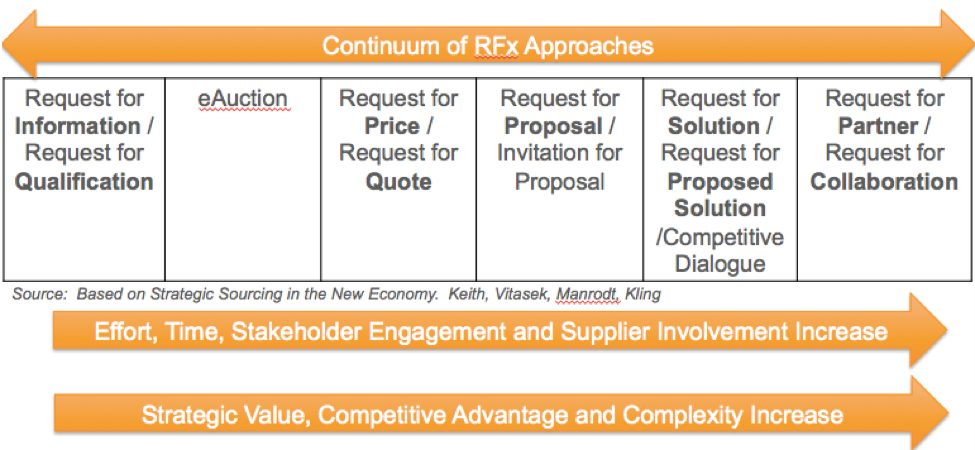 The majority of organizations rely on RFx methods falling into the first five categories along the RFx continuum. UT researchers found that some organizations were moving to more collaborative approaches for procuring more strategic or complex goods and services. For example, the UK government has approved a "Competitive Dialogue" process. UT researchers coined the term "Request for Partner" to describe this highly collaborative bidding process – used for the most strategic and complex sourcing initiatives.
The white paper profiles each of the RFx methods and helps organizations understand why and when to use each method.
The Collaborative "Request for Partner" Bidding Method
UT's researchers felt strongly that more collaborative bidding methods could be beneficial for companies procuring more strategic goods and services – especially outsourcing services. They went on to work with companies – including the British Columbia government – to develop an open source methodology around the "Request for Partner" process. Their 20-step Request for Partner method is detailed in the comprehensive white paper — "Unpacking Collaborative Bidding: Harnessing the Potential of Supplier Collaborative While Still Using a Competitive Bid Process". The paper provides step-by-step guidance for the Request for Partner process. It also highlights the BC Government's collaborative bidding pilot for contracting for environmental services.
A major objective in the Request for Partner competitive bidding method is to identify suppliers that can drive innovation and provide transformation – not just deliver a good or services as measured by typical service level agreements. For this reason, the competitive bid process is highly transparent and encourages collaboration – from developing requirements through contract development and established governance mechanisms the parties will use after the contract signing. This highly collaborative methodology allows the buyer and supplier to not only develop the "solution" during the bidding process, but also to establish a knowledge about how well the organizations work together.
Another aspect of the Request for Partner process is the ability to select the supplier with a good "cultural fit."
The Request for Partner methodology is also well-suited when a buying organization needs to develop a contract with a strategic supplier for a highly complex and strategic business need such as a complex outsourcing initiative. It is also ideal when the buying organization is seeking a supplier who will play a major role in transformation or innovation. A key intent of the Request for Partner methodology is to create a highly collaborative longer-term relationship where innovation, cultural fit, and a win-win mindset are embraced as essential to engage in a dynamic environment. The process is designed to be used by buyers and suppliers that seek to contract using a more advanced Performance-Based/Managed Services or a Vested Sourcing Business Model.
Due to the time and resources involved, a Request for Partner should only be used for strategic outsourcing initiatives. This is because a Request for Partner process requires a significant amount of stakeholder involvement by both the buyer and supplier's organization. As such, organizations that simply want a service provider to provide a commodity type good or service with low risk and a limited need for innovation should use a more conventional or transactional approach.
Request for Partner uses a cross-functional team representing key business stakeholders and users that have responsibility for creating supplier down-select criteria. Subject matter expert stakeholders participate in proposal review, solution development, negotiations, and transition planning. It also involves site visits to assess supplier capabilities and meetings with one or more of the potential supplier's clients as references. Due diligence meetings include discussions on performance, and often involve validation of information from the RFP about capabilities and observation of the supplier "in action."
Request for Partner requires the highest amount of supplier involvement. Like most complex sourcing initiatives, the Request for Partner methodology uses a multi-stage selection process. Suppliers making each "cut" have increased responsibility and involvement in the process, so that buyers can get comfortable with how potential suppliers will "fit" into their organizations.
Short-listed suppliers should expect to spend time in site visits and stakeholder workshops that will help them develop their proposed solutions. These collaborative sessions are designed for a high degree of supplier interaction where the buyer and supplier develop operational knowledge of the each other's team and how well the parties work together.
A major benefit of asking suppliers to develop a solution is that it allows buyers to work collaboratively with suppliers on more complex sourcing initiatives that may have more than one "right" answer. It also challenges suppliers to come up with innovative solutions that can best meet a buyer's needs.
The Bottom Line
The bottom line is the potential impact on your bottom line. Using the right RFx process will enable you to get the most value from your competitive bidding efforts. As organizations mature and their approaches to sourcing become increasingly sophisticated and vital to the enterprise, they need to challenge themselves to embrace new approaches to competitive bidding that incorporate how they collaborate and contract for innovation into complex sourcing initiatives. Bringing collaboration into the bidding process enables buyers to work with suppliers to find "solutions" and potential "partners" – not just on providing a "price" for a specification.

___________________________________________________________________________________________________

Kate Vitasek is an international authority recognized for her award-winning research and the Vested business model for highly collaborative relationships. She is the author of six books on Vested and a faculty member at the University of Tennessee. She has been lauded by World Trade magazine as one of the "Fabulous 50+1" most influential people impacting global commerce and has shared her insights on CNN International, Fox Business News, Bloomberg, and NPR.

This commentary is linked to studies by Vested that can be found here: http://bpinetwork.org/knowledge-library/studies.