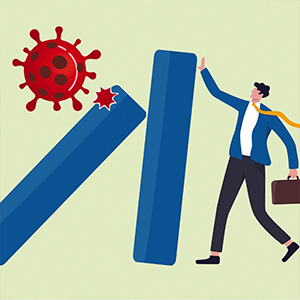 Crisis Strategies: Expert Insight for Response + Recovery
By Dave Murray
Business leaders are being challenged today, perhaps as never before. They must find ways to maintain operational and strategic resilience and survive in the face of the Covid-19 pandemic and accompanying economic slowdown. However, they should also be thinking about and planning for a "new normal" that will unfold when the current shelter-in-place mandates begin to lift. Society and the global economy will surely behave differently, and businesses will need to plan for how they can thrive in this future landscape.
Leading consulting and analyst firms have responded to these challenges with broad range of analyses, insights, advice and self-assessment tools to help business leaders manage in the new reality. I've aggregated below links to some of the best of these resources.
How the current crisis will unfold from here is still a matter of conjecture. Deloitte recommends that leaders plan for the pandemic across three scenarios: mild, harsh and sevеrе. The mild scenario sees the economy beginning to rebound in late 2020, while the severe alternative is one in which the Covid-19 virus remains out of control for a prolonged period, causing severe disruptions to health care systems and the rest of the economy and a breakdown of the global financial system.
How should leaders be thinking about their businesses?
PwC outlines the critical buckets that business leaders must plan and think about to succeed:
Workforce
Operations and supply chains
Finance and liquidity
Tax and trade
Strategy and brand
Indeed, various consulting firms are providing a check list of things that managers need to be thinking about now. Some of the top to-dos include:
Creating a robust framework for managing supply chain risks, including identifying alternative sources.
Ensuring that your finances remain viable
Understanding your variable costs
Focusing on inventory management
Stretching out payables, responsibly
Looking into alternative supply chain financing
Leveraging technology to improve collaboration
Remain visible and check in often with teams
McKinsey warns that business leaders need to think deeply about the "next normal" and how it will differ from the world before Covid-19. Companies should be creating "plan-ahead teams" and direct them to consider a variety of alternative scenarios and time horizons, while thinking about their organizations and businesses across five stages: Resolve, Resilience, Return, Reimagination, and Reform.
Many of the links below offer analysis of the pandemic's implications for specific vertical industries and geographic regions. Most provide to-do check lists and some also provide self-assessment tools. Many offer analyses of governmental stimulus packages and how businesses can leverage them.
Right now is the time for business leaders to think about both resilience and survival, as well as innovation for the new economic and business landscape..
Deloitte provides global insights and advice on managing during the Covid-19 crisis.
https://www2.deloitte.com/global/en/pages/about-deloitte/topics/combating-covid-19-with-resilience.html
McKinsey offers a series of articles on leadership during the pandemic and beyond.
https://www.mckinsey.com/featured-insights/coronavirus-leading-through-the-crisis
PwC's Covid-19 Navigator helps you assess your readiness to respond to the crisis.
https://www.pwc.com/us/en/library/covid-19/response-navigator.html
Accenture presents its thoughts on managing the human and business impacts of Covid-19.
https://www.accenture.com/us-en/about/company/coronavirus-business-economic-impact
AlixPartners offers insights and advice, including implications for specific industries.
https://www.alixpartners.com/insights-impact/insights/covid19response/
Aon offers self-assessment tools and check lists on its Covid-19 Response site.
https://www.aon.com/event-response/coronavirus.aspx?promo_name=HP-01-2020-03-05-novelcoronavirus&promo_position=HP-01
A.T. Kearney provides key ideas and tips for keeping your business running during the crisis.
https://www.kearney.com/covid-19
Bain & Company's Threat Report Index evaluates the outbreak's effect on business. The index currently stands at level 6 on a scale of 10.
https://www.bain.com/insights/topics/coronavirus/
BCG discusses the New Leadership Agenda across key functions of the enterprise.
https://www.bcg.com/featured-insights/coronavirus.aspx
EY explains the U.S. CARES Act and what it means for businesses.
https://www.ey.com/en_us/covid-19/cares-act-what-you-should-know
Gartner provides a complimentary collection of COVID-19 research and tools to help businesses respond and recover from Covid-19.
https://www.gartner.com/en/insights/coronavirus
GrantThorton offers insights into the U.S. stimulus package and the Covid-19 economy.
https://www.grantthornton.com/
KPMG discusses global insights into the Covid-19 response and advice on managing through the crisis.
https://home.kpmg/xx/en/home/insights/2020/03/the-business-implications-of-coronavirus.html
L.E.K. Consulting's Covid-19 Insights Center offers the latest thinking on responding to the crisis.
https://www.lek.com/industries/covid-19-insights-center
Mercer provides daily updates to help employers respond to the challenges of Covid-19
https://www.mercer.com/our-thinking/managing-novel-coronavirus.html